Whether it's a birthday, an anniversary, Valentine's Day or an engagement celebration, balloons are a great gift idea! There are an array of colors, styles, and shapes to choose from, and we've listed a few of our favorites below…
1. Balloons with secret messages
Whether gifting a child or an adult, popping a balloon that reveals a secret message is a joy for all! This gift, which is a great alternative to the traditional card, is guaranteed to brighten up a friend's, family member's or colleague's day, and is both a creative and unique way to say 'Happy Birthday', 'congratulations', 'good luck' or 'I love you!'
This particular style of the balloon is also a great (and extremely memorable) way to ask a friend to be your bridesmaid or announce a new addition to the family. You can place the personalized message in the balloon along with an array of colorful sequins in your chosen hue. The balloon will arrive with a set of instructions, which will encourage the recipient to pop the balloon to reveal the message inside.
2. Balloons filled with soft toys
This is an ideal present for children celebrating their birthday. The soft toy is inserted securely inside the balloon, with the instructions "pop me" printed on the outside of the inflatable. The recipient is encouraged to burst the balloon with a pin in order to release the prize inside!
Gifts inside stuffed balloons (as they are known) vary and can be tailored to the recipient. You may wish to choose a traditional teddy bear, or alternatively, a character from their favorite cartoon, movie or book. This style of the balloon is a great and distinctive way to send a present, and as such, makes an ideal option for an array of occasions, including children's parties, baby showers, birthdays and anniversaries.
These balloons tend to come embellished with bows and ribbons. You can also organize for a delivery to arrive directly to the recipient's door, with the balloon secured in a beautiful presentation box.
3. Personalized balloons
Balloons are a unique and fun gift to give and apply to a number of celebrations and occasions all year round. You can add any message you desire to the outside of a balloon, which once inflated, will reveal your words in all of their glory. In addition to words, you can even add an illustration or a photo. A number of companies offer a personalized service that allows you to upload a photo of your choice to their website, and the photo will then be printed onto the balloon. This may be an image of your best friend and you, a picture of your mum and dad celebrating their anniversary or your sister pulling a funny face! The options really are endless!
4. Character balloons
From inflatable cartoon characters to blow-up superheroes to oversized emoji's, why opt for a traditional balloon when there are so many character balloons to choose from? Inflatable character balloons are a great choice for a themed party or as a gift for those who have a favorite character – a contemporary twist on your standard balloon. If you have a specific theme for a party in mind, character balloons can act to provide plenty of color and inspiration to a hall or open space too.
5. Heart-shaped balloons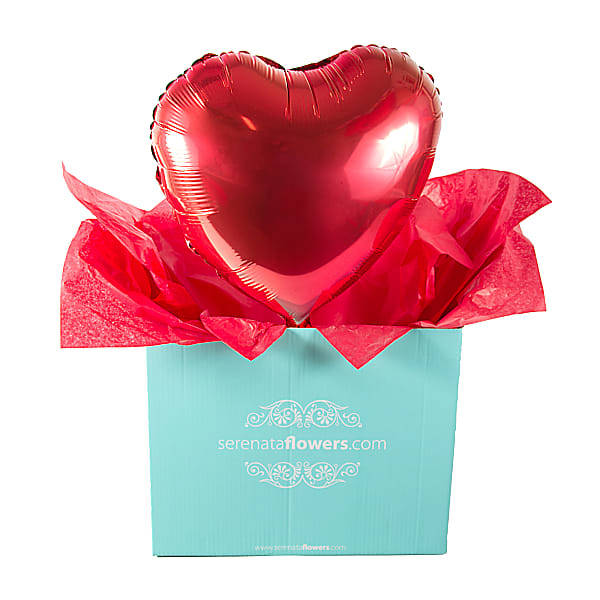 Heart balloons are the perfect balloon choice for birthdays, Valentine's Day, anniversaries and engagement parties. Gifting your nearest and dearest with a heart-shaped balloon will allow you to show that special someone you care! Choose from an array of individual styles, including metallic heart balloons, pastel shades, and traditional styles.
As well as balloons shaped like hearts, there are a number of other loved-up styles available, including the balloons that spell out the word 'Love'. A red balloon that spells out the word 'Love' in beautiful, italic writing is ideal for a wedding or engagement party.
Surprise someone special with one single heart-shaped balloon, an entire bunch of heart-infused balloons or alternatively, an array of balloon letters that spell out a loved-up message, such as 'just engaged', 'she said yes', 'happy Valentine's Day' or 'I love you!'! Combine with a bouquet of flowers and a box of the recipient's favorite chocolates and you have the perfect gift. For the extra wow factor and to ensure everyone around the recipient makes a fuss, have the balloon delivered directly to their desk.
6. Balloons filled with glitter
Forget confetti – this season it is balloon brimming with glitter that is trending! Available in an array of sizes, these balloons make the perfect party centerpiece! This style of balloon boasts a mixture of metallic confetti squares, glitter, and sparkle. You can even add an assortment of hot-hued feathers to the mix! These balloons are a great option for a special occasion or the likes of a New Year or engagement party.
Glitter balloons are also a great option for a baby shower, especially when it comes to revealing whether the baby is going to be a boy or a girl! You can fill the balloons with either blue or pink glitter (depending on the gender) and get the guests to pop them in order to reveal the big secret!
7. Balloons filled with sweets
This is a great party idea for children and one that differs from the standard party bag. You'll be surprised at how many sweets you can fit inside just one helium balloon. This is a great DIY project and one that is guaranteed to be a hit with kids (and adults with a sweet tooth). If you'd prefer to purchase these balloons pre-made, you'll be pleased to know there are a number of designs and colors available online and in shops. When choosing a filling for your balloon, opt for a theme or an eclectic mixture – anything goes!
Balloon gifts can add a spectacular splash of color to a party, gathering or special occasion and with so many different types to choose from you should be able to find one that is just right.
Author:
Sarah Marsalle
Sarah Marsalle is a dedicated gifting expert since 2016. She helps people to do, say and give in more gracious and loving way. She is a guru in gift traditions and has thousands of ideas for any and all important events in life.