However you put it, the first day of each school year is stressful. It is stressful both for the parents, the children, and the teachers. There are children who look forward to the start of a new school year, but all the time they are farther and farther between.
The parents have to deal with their children's textbooks, bags, shoes, and various other accessories; they have to deal with their children's tears, fears, desires, wants, as well as their own apprehensions about letting the little ones loose in a caged playground full of wildebeest (this is what it feels like to the parent of a first-grader, that is).
The child deals with myriad more problems and concerns. They worry about their friends, the newly formed cliques, the new substitute teacher who is said to be very strict, the grade here and the homework there, as well as the new and increasingly difficult things they have to memorize all the time. As the child gets older, they start worrying about their clothes, image, gossips, etc. It is an odd world full of terror and moral and spiritual ambiguity. Granted, this may not be a universally accepted view, but you can, well, guess that the author of these lines disliked school. Sniff.
The teachers, then, deal with both. Both the parents and the children. They are there to assuage the parents' fears, worries, answer their questions, and act as a beacon of light in their child's education. Do you know what the life of a teacher looks like with the advent of smartphones, broadband internet plans, and WhatsApp? It is an incessant shower of questions, complaints, suggestions, questions, questions, and more questions.
This is why the crew at Hipper decided to help all three groups brave the first day of school, and has done so by putting together a list of gifts that will make the oh-so-stressful September fly by like that. Wait, like that.
Let's go:
First and foremost, there is nothing like a handful of delicious chocolates and alcohol to perk you right up (Parents and teachers, do bear in mind that these gifts are not intended for your first-grader. Thank you.)
If you are simply looking to help ease yourself from a stressful September into a slightly less stressful October, we've prepared the Hipper Chocolate Hamper for you. 

It is an affordable blend of tasty milk chocolates, at a discounted price of 

£34.99.
On the other hand, if you've already experienced fireworks and chaos and tumult during the first school day of 2018, you may want to bring out the bigger guns. At £84.99, you can say a classy and cheerful 'goodbye' to all your troubles. A perfect mix of chocolate and champagne will assure, on command, that all your cortisol (stress hormone) gets sucked away and replaced with an abundance of serotonin (happiness hormone). You know, you'll get fat and drunk – an ideal combination for a happy life.

However, we've got another trick up our sleeve. If the world had just come crashing down upon you, and you see no way out, and there ahead of you is an abyss far darker than in the most depressed of your days, fear not. We've got you. For a fairly expensive £119.99 (great sales technique, author!), we've put together a Millionaire's Chocolate Hamper. This hamper full of the finest chocolates will last you for over a month, both in chocolate AND happiness, and will act as the last line of defense against the horrors of the upcoming school year. Fear not, the Millionaire's Chocolate Hamper keeps the blues away – for good!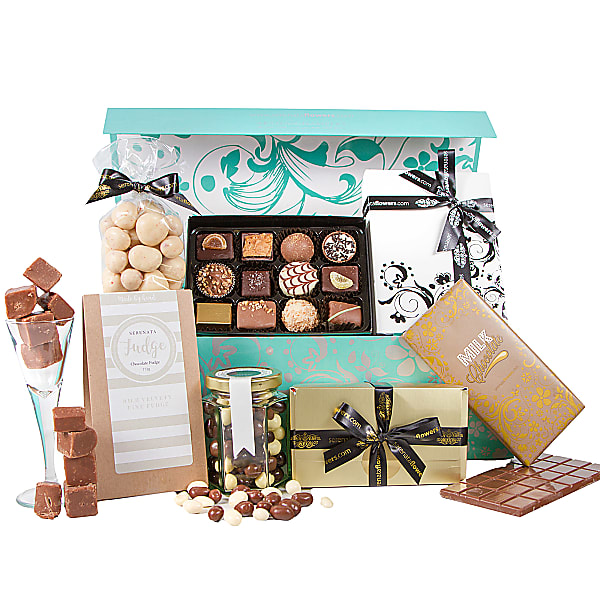 Now, let's look for something for the kids! A quick disclaimer, though: a couple of these gifts are sort of spoof/joke gifts, so please use common sense and err on the side of caution when purchasing gifts for your kids.
A tiny GPS keychain. You know, if they are prone to getting lost.

A cool, new backpack to store books, lunch, and raise their social status within their peer group to avoid bullying, help maintain a strong social circle, and make new friends by using all the benefits of unadulterated late-stage capitalism.
Wait, what?
A cell phone so you can communicate with your child.

Apparently, all the children nowadays are crazy about a toy called 'Squishy'. They are rubber anti-stress balls in the shape of famous cartoon characters. And they're fun to squeeze.

An assorted lot of chewing gum to help your kid fit in, you know, being the one with all the gum. Also, it helps drive the teachers out of their minds and yourself to your kid's school on a few separate occasions.

Here's an interesting one. In order to be a cool, understanding parent, you can design a 'Stay home from school card' with 3 charges. Essentially, it lets your kid pick three days out of the whole semester on which they are allowed to stay home for whatever reason. This works perfectly and will earn you extra-extra-extra points with your child.

A new car. Again, not for the first-grader.

A better list of gifts.
There you have it. We designed this list in order to help teachers, parents and their children brave the onslaught of another school year. Will it help everyone? No. Will it help someone? Definitely.
Every start is scary. They are usually full of apprehension, doubt, and an endless series of what-ifs. However, they can also be fulfilling, beautiful, and enriching experiences. It is your choice, and your choice only, how you will approach the start of your child's/pupil's school year.
Of course, our list is not definitive. Whatever you decide to gift someone for the start of the new school season, it will be greatly appreciated. If you gift with love, gift with pride, and gift with effort, it will come back to you manifold.
Happy studying!
Author:
Sarah Marsalle
Sarah Marsalle is a dedicated gifting expert since 2016. She helps people to do, say and give in more gracious and loving way. She is a guru in gift traditions and has thousands of ideas for any and all important events in life.