Whether you're celebrating your 40th wedding anniversary, or you're rejoicing the anniversary of close friends and family members, the ruby anniversary is a huge milestone. This means it's important to gift the happy couple something special to commemorate the occasion – after all, 40 years of partnership deserves a little recognition! If you're unsure of what to get to celebrate a 40th wedding anniversary, we hope to provide a little inspiration:
The flower symbolic of this occasion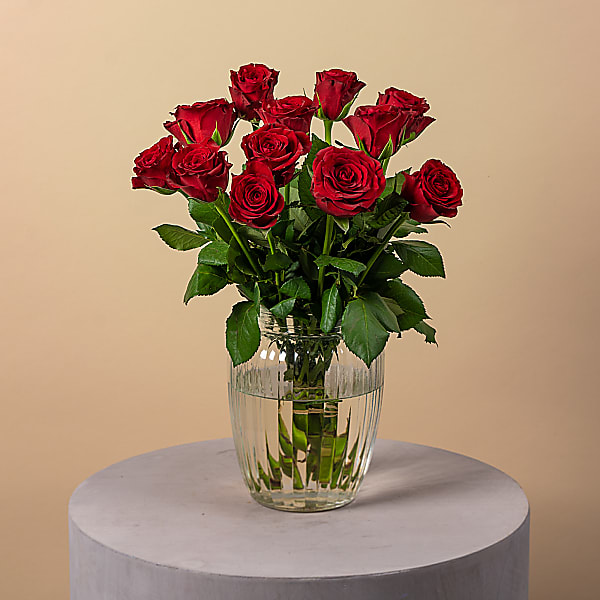 The nasturtium is considered the official flower of the 40th wedding anniversary. It is symbolic of victory, and being married for an impressive 40 years is certainly an accomplishment. If you're unable to source this particular flower, choose deep red or ruby blooms instead. If you're sending a bouquet to friends or family, online florists are a great option, especially as many offer next day delivery. Whether you gift your partner with flowers traditionally associated with the month of your union, or opt for a bouquet that mirrors your emotions, you can be sure that a surprise delivery will be warmly remembered for years to come. From a dozen red roses to a bouquet of bold and beautiful gerbera daisies, to an arrangement brandishing red Mokara orchids, there is a bloom to suit all tastes.
A card with a thoughtful message
A cute card with a thoughtful message inside is another great idea when it comes to 40th wedding anniversary gifts. You can keep it short and sweet with a simple note saying 'wishing a perfect pair a perfectly happy day' or alternatively, go into more detail and reminisce with a fond memory such as the couple's first meeting or a moment from their wedding day.
A surprise helium balloon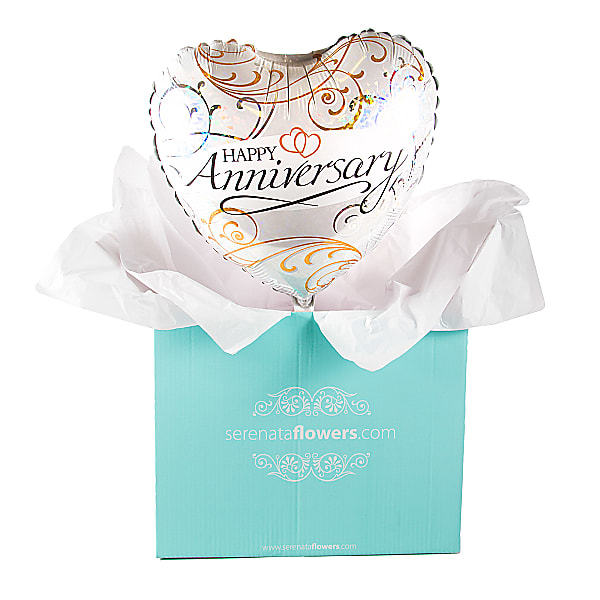 Surprise your wife or the happy couple with a helium balloon, brandishing a sweet message that arrives hidden in a big box. When opened, the balloon will rise to the sky, revealing a message of your choice, such as 'here's to another year of being great together', 'anniversary cheers', 'happy 40th anniversary, you old lovebirds', 'hope you find time to look back on all your sweet memories together' or 'always knew you two had something special'. You can often choose what message to embellish, meaning you can be creative as you wish.
A hamper
What better way to bring in your 40th wedding anniversary than with a romantic picnic? A hamper brimming with moreish delights in the shape of decadent chocolates, fine wines, artisan cheeses, luxury handmade biscuits and more is therefore a fantastic option. Pick your favourite picnic spot and treat your loved one to a romantic meal they won't forget! Serenata Flowers have an abundance of hampers to choose from, all of which contain an array of different contents, including the chocolate hamper (perfect for those with a sweet tooth), the cheese trug, fine wine hampers and those that contain a trio of ales.
Red wine gift basket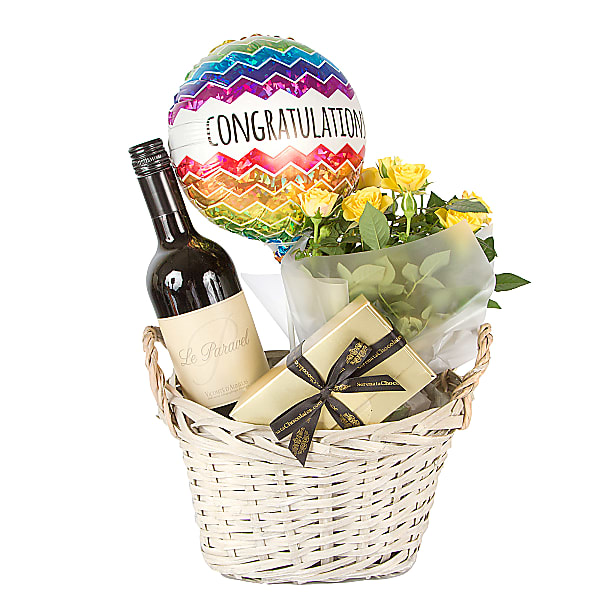 Surprise someone special with a gorgeous red wine gift basket! Inside you'll discover fine wine, a box of toffee truffles and a beautiful rose plant, all of which come encased in a romantic wicker gift basket, which can be re-used once the contents have been consumed.
A memory frame
This is a thoughtful 40th wedding anniversary gift that is as fun to put together as it is to give. From childhood photos to wedding snaps, to pictures of family pets and children, a memory frame is a great option and one that can be displayed in pride of place in the home.
A framed picture
A framed picture of when the happy couple first met or am image from their wedding day is another good option for a wedding anniversary gift and one that will certainly be well received. Pick a pretty frame (one that will match their décor) and choose an image that promises to remind the happy couple of a fond memory.
A weekend getaway
Treat your loved one to a romantic getaway. Pick a place that is sentimental to both of you, such as where you first met or where you spent your honeymoon, book a fancy hotel and plan a number of adventures for your stay, including romantic candlelit dinners, leisurely strolls and trips to must-see cultural attractions. Spending time with your partner, away from everyday life, is a great way to reminisce on past memories, whilst making new ones.
A plant
If your partner is a keen gardener or fancies himself or herself as a green-fingered connoisseur, a plant is a great option to choose when it comes to 40th wedding anniversary gifts. Try to think about the environment the plant will reside in as this will ensure you pick a style, size and variant you know will thrive, and one that offers pretty blooms year after year.
Author:
Sarah Marsalle
Sarah Marsalle is a dedicated gifting expert since 2016. She helps people to do, say and give in more gracious and loving way. She is a guru in gift traditions and has thousands of ideas for any and all important events in life.