The countdown to Black Friday 2018 has begun. Shoppers are gearing up to bag a number of bargains in preparation for the festive season. This year, Black Friday falls on 23 November and promises 24 hours (and more) of solid sales and discounts.
Where did Black Friday come from?
Traditionally, Black Friday was an American sales event that occurred on the day after Thanksgiving. Today, it is regarded as the start of the Christmas shopping season and you'll find many of the major brands taking part. Originally it lasted for just 24 hours, although the majority of shops will now stay open later, or open their doors earlier, in order to entice customers.
A number of online retailers keep the price reductions going up until Monday, a day that has been nicknamed 'Cyber Monday'. The concept is now popular across the globe, meaning those in other countries can also take advantage of a wealth of offers and reductions.
Be organized
It's important to think about what it is you want to buy and who you are buying for prior to hitting the sales. Otherwise, you may risk overspending or purchasing an abundance of items you don't need. Writing a shopping list can be a great idea to ensure you find all the gifts and must-haves that you require.
Christmas hampers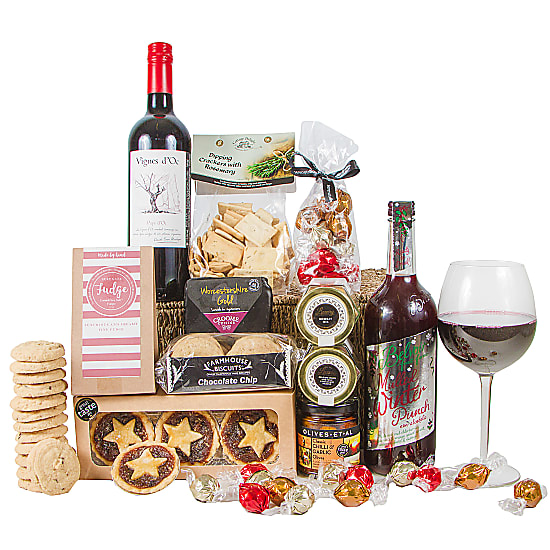 Hampers make for a fantastic Christmas gift and are a must when it comes to choosing Black Friday 2018 gifts for the entire family. There are a number of options to pick from, many of which can be tailored to the individual, or individuals, that you're shopping for. From hampers brimming with sweet treats to baskets overflowing with an assortment of pampering products, savory delights, and must-try beverages – you can tailor the hamper to suit almost every personality.
Pamper hampers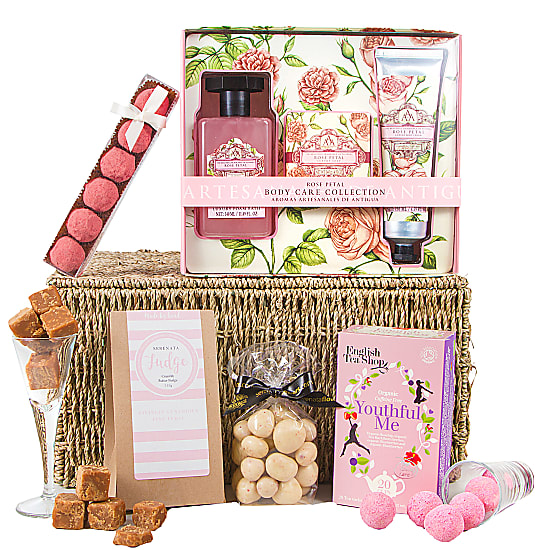 Pamper hampers are a great gift for those who work long hours, have busy schedules and who want to relax and unwind. A luxurious pamper hamper will help melt away the stresses and strains of a hectic day. Inside, you'll find everything from aromatic soaps, to scrubs, potions, lotions, bath soaks, wine and chocolates.
Depending on the recipient, you can opt for a smaller pamper hamper for Black Friday 2018, in the shape of a gift basket complete with a beautiful bouquet of vibrant yellow roses, a bottle of crisp white wine and a heavenly scented ginger and lime hand cream. Alternatively, choose something more substantial in the shape of a rose petal relaxation hamper. Inside, you'll discover an assortment of taste-tantalizing teas, rose petal scented shower gels and strawberries enrobed in white chocolate, alongside plenty of tasty truffles.
Luxury hampers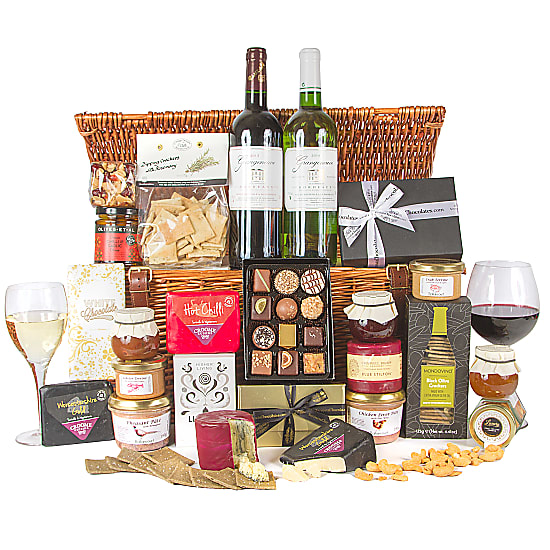 If you're gifting someone special, such as a family member or partner, a luxury hamper is a great Black Friday 2018 gift idea and one that is guaranteed to put a smile on the face of a loved one. A truly scrumptious hamper will contain the likes of meringues, truffle bars, whiskey and champagne jam, which makes it the perfect present for those who wish to indulge. If the recipient cares less about the food and prefers a bottle of bubbles every now and again, opt for a retro box containing the best of British sparkling champagne – if you're lucky, they may even offer you a glass or two!
Cheese hampers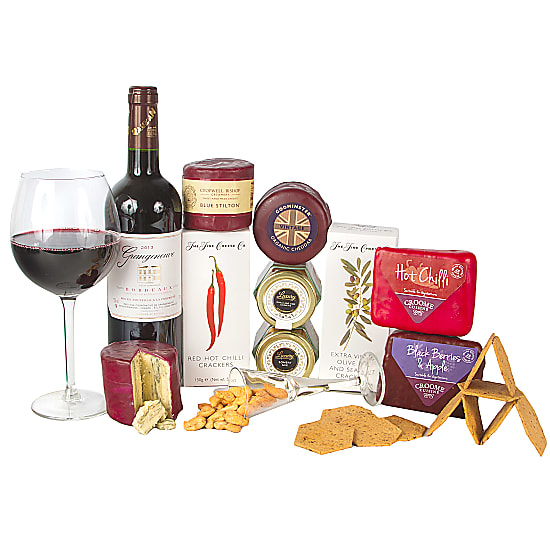 Add an injection of the festive spirit to a traditional picnic basket with a delectable cheese hamper. From international cheeses to local produce, there is something to suit every taste. You can opt for a basket brimming with crackers, chutneys, and nuts, or a hamper, complete with olives, savory jams, pestos, chili-infused nuts and more.
Chocolate hampers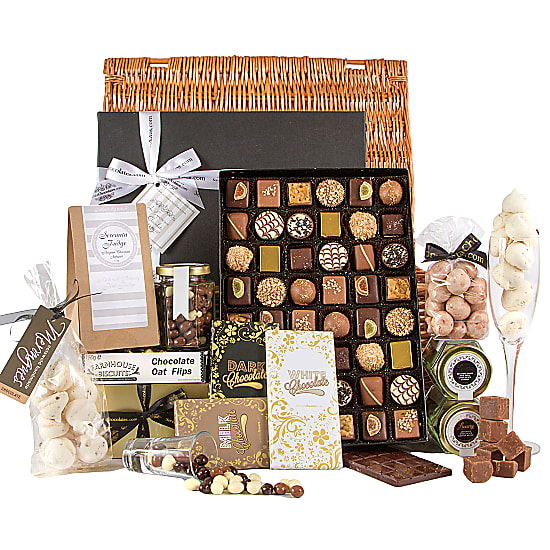 An ideal Black Friday gift option for those with a sweet tooth comes in the style of a definitive chocolate hamper, brimming with an array of sweet treats. If you're struggling to pick between milk, dark and white chocolate, this is an ideal option, as the Definitive Chocolate Hamper promises to cover all bases. Overflowing with everything from white, dark and milk sensations to taste-tantalizing truffles, naughty nut fillings and tangy fruit, this showstopper of chocolate ecstasy is guaranteed to be a gift that will go down in history!
Champagne gifts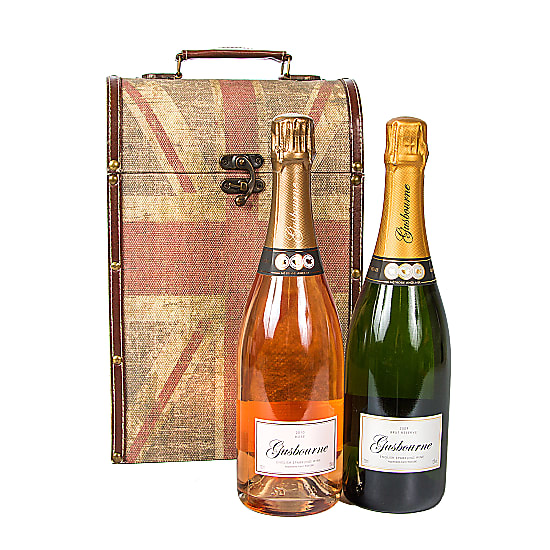 With the festive period just around the corner, now is the time to starting thinking about what to buy for who. Whether it's colleagues at work, a special someone, your mum, dad or Grandad, a champagne gift hamper is guaranteed to suffice. After all, you can never go wrong with a bottle of bubbles.
Bold bouquets
A bold and bright bouquet of blooms will put a smile on the face of loved ones, friends and family. When it comes to choosing a bouquet, opt for blooms that match the individual's style and decor, or alternatively, choose a bloom that is preferred by the recipient. From blues and reds to whites and creams, there is something to suit every persona, including roses, lilies, gerbera, carnations, and sunflowers.
Plants
Plants are a great gift idea for those who are seldom at home, as they tend to last a great deal longer than that of bouquets. They also make a great present when teamed with chocolates, or a bottle of champagne. Certain types can also be transferred to the outdoor space when the summer months arrive. Planted gift baskets, bursting with an assortment of beautiful flowers, complete with a cascade of enchanting foliage and presented in a gorgeous pot or wicker basket can make the perfect Black Friday 2018 gift for any floral admirer. The likes of a red cyclamen duo, with its hot festive hues, is an ideal option for the Christmas season. If you're looking for something even brighter, choose an arrangement brandishing an array of golden tones in the shape of orange, yellow and peach shades.
With an array of items available on Black Friday 2018, there are plenty of opportunities to find the ideal gifts for all your friends and family – and just in time for Christmas too!
Author:
Sarah Marsalle
Sarah Marsalle is a dedicated gifting expert since 2016. She helps people to do, say and give in more gracious and loving way. She is a guru in gift traditions and has thousands of ideas for any and all important events in life.