Whether it's her birthday, your anniversary or Valentine's Day, finding great gifts for your wife is a must. Thankfully there are plenty of options to choose from that can help to put a smile on her face, and we've listed a handful of our favorites below…
A bouquet of beautiful blooms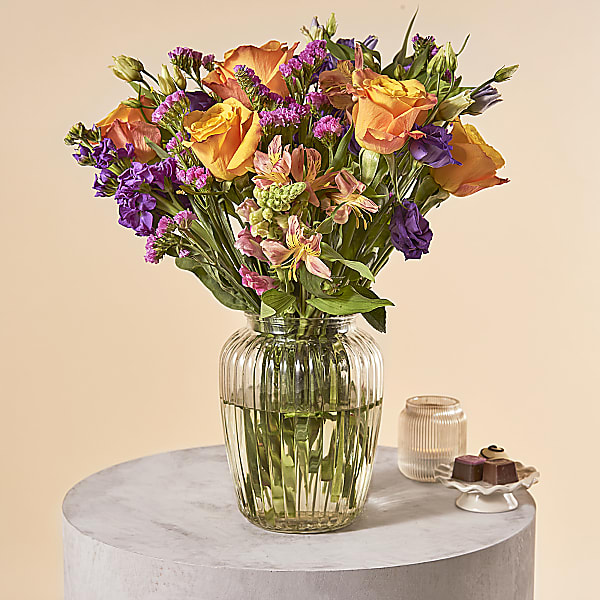 It doesn't even need to be a special occasion to gift your other half with a beautiful bouquet of blooms. It's likely she does a lot for you, so why not show your appreciation by sending flowers to her office? Choose a bouquet comprising her favorite colors and blooms and keep all of her work colleagues talking about your generosity for weeks!
With so many options to choose from, there is something to suit all tastes. Opt for anything from an array of romantic floral arrangements in the shape of a dozen red roses to one single red rose in a pretty vase, a crimson kiss bouquet, or flowers inspired by wild berries.
Crimson Kiss: This particular display boasts layers of crimson elegant blooms, brandishing dramatic hues of purple and rich scents.
A red rose in a vase: If you're hoping to share romantic notions with the one you love, send them a single crimson-lipped rose, embellished by rich green fronds of foliage. The entire display is presented in a handmade vase, complete with hourglass curves.
A dozen red roses: Looking for gifts for your wife that are more traditional in style? Often thought of as one of the go-to options, you should look no further than a dozen red roses. This classic romantic gesture will ensure she knows you're thinking of her!
20 luxury yellow roses: If you're looking to gift the lady in your life with something that is as equally extravagant as it is unique, choose this glorious bouquet of 20 butter-colored roses, which will arrive in full bloom. Asides from instantly brightening up the day of the recipient, they're also guaranteed to brighten up any room in the household. If you really want to push the boat out, you could add a helium balloon with the words 'I love you' splashed across the front, a box of her favorite chocolates or a vase into the mix.
Luxury pink gift bag: Candy pink roses and sublime scented lilies presented in a gift box create the textbook present for your wife, especially if you have decided to have the item delivered to her office. She can easily display this arrangement on her desk, which will not only make her feel special, but it will add a splash of color to the office environment as well.
Chocolate hampers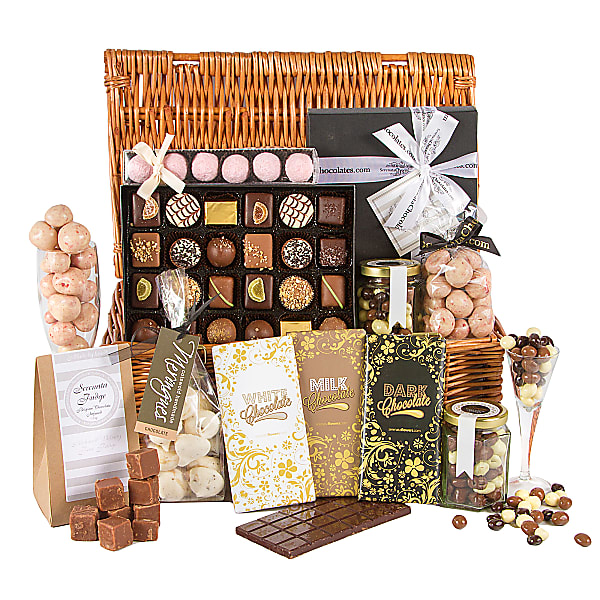 What woman doesn't love chocolate? A chocolate hamper, comprising a variety of moreish treats, all of which come encased in a wicker basket, is the ideal gift for a wife. With so many options to choose from, you can tailor the hamper to her tastes. Pick from a range of luxurious, scrumptious chocolate treats and surprise your nearest and dearest with a somewhat epic chocolate feast.
The definitive chocolate hamper: Unsure of whether to pick white, milk or dark chocolates? Worry not, the definitive chocolate hamper has something to suit all – mainly because it houses an array of chocolate treats in an assortment of flavors? Housing everything from white to dark and milk treats, including moreish truffles, tangy fruit-infused chocolate and those with serious naughty nut fillings. This is certainly a gift that will be well received! If you're lucky, your wife may even share it with you!
White wine and chocolates: Another great gift hamper that comes complete with a bottle of fine white wine, chocolates, and flowers! What more could she desire?
Author:
Sarah Marsalle
Sarah Marsalle is a dedicated gifting expert since 2016. She helps people to do, say and give in more gracious and loving way. She is a guru in gift traditions and has thousands of ideas for any and all important events in life.